I can't believe it took me so long to start this book!! It was so good, and I mainly read it through audiobook. (Thanks to my library for bailing me out all the time!!!)
Title: Flame in the Mist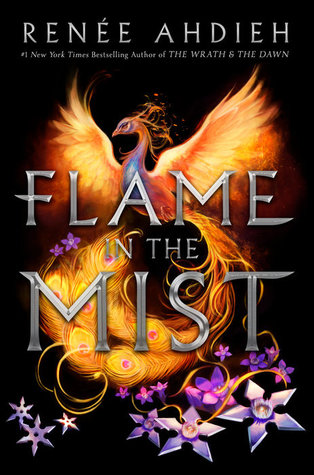 Author: Renee Ahdieh
Publisher: G. P. Putnam's Sons
Release date: May 16, 2017
Source: Hardcover/Audiobook
My rating: 5/5 Goodreads stars
The only daughter of a prominent samurai, Mariko has always known she'd been raised for one purpose and one purpose only: to marry. Never mind her cunning, which rivals that of her twin brother, Kenshin, or her skills as an accomplished alchemist. Since Mariko was not born a boy, her fate was sealed the moment she drew her first breath.
So, at just seventeen years old, Mariko is sent to the imperial palace to meet her betrothed, a man she did not choose, for the very first time. But the journey is cut short when Mariko's convoy is viciously attacked by the Black Clan, a dangerous group of bandits who've been hired to kill Mariko before she reaches the palace.
The lone survivor, Mariko narrowly escapes to the woods, where she plots her revenge. Dressed as a peasant boy, she sets out to infiltrate the Black Clan and hunt down those responsible for the target on her back. Once she's within their ranks, though, Mariko finds for the first time she's appreciated for her intellect and abilities. She even finds herself falling in love—a love that will force her to question everything she's ever known about her family, her purpose, and her deepest desires.
****************************
I really love Ahdieh as a writer. I will always read what she writes. Her first series The Wrath & the Dawn and The Rose & the Dagger were riveting, and I loved her storytelling in that series. This book is unrelated to that one and can be read without knowing anything about her first duology.
Something that prevents me from picking up books for such a long time is the amount of books that I want to read coming out at the same time. Literally there are too many that I'm anticipating that are released around the same time, and I can't get to them all for a very long time. It makes me sad.
ANYWAAYYYYY! I wish I had picked this book up sooner. The world building of feudal Japan, the characters, the plot; everything was heckin awesome. I was immersed into a world of intrigue and different plot lines intersecting.
One thing I had a hard time with was keeping track of all of the different stories going on at the same time. Sometimes I would be reading about Okami, but I wouldn't realize it until they said his name a few times, and even then I wasn't 100% sure. I'm sure once we get Smoke in the Sun all of the strings will tie together and make more sense.
This was a bit of a retelling of Mulan. If you didn't know, Mulan is one of my all time favorite movies. One time I watched it instead of doing homework on a Thursday afternoon. (I got everything done eventually, don't worry!) Ahdieh takes the basic ideas of the story and builds her own world out of them. I like that it was taken to Japan instead of staying in China. I like how Mariko fought for her freedom and chose to infiltrate the Black Clan to save herself.  I like that the Black Clan was a rogue group instead of an army. There are a lot of recognizable themes with a different twist.
Mariko was pretty awesome. There were times that I couldn't stand her much, but I knew that she would get there eventually. She really comes to her own toward the end and I'm so excited to see where she goes in the second book!!
The storytelling is rich and interesting. At first it was a little slow, but once I really got into it I finished it quickly. I highly recommend this book to someone looking for a different take on a classic story and a kick ass woman.
Happy reading,
Sophie 🙂