Hi there! I'm starting to finally work my way through backlogged reviews and I'm so excited to talk about this book today! I was provided a copy for review by the publisher (thank you!!). This in no way impacted the way I read or review the book.
Title: Royals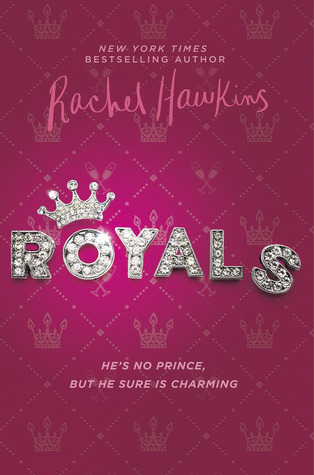 Author: Rachel Hawkins
Publisher: G. P. Putnam's Sons BFYR
Release date: May 1, 2018
Source: ARC
My rating: 4/5 Goodreads stars
Meet Daisy Winters. She's an offbeat sixteen-year-old Floridian with mermaid-red hair; a part time job at a bootleg Walmart, and a perfect older sister who's nearly engaged to the Crown Prince of Scotland. Daisy has no desire to live in the spotlight, but relentless tabloid attention forces her to join Ellie at the relative seclusion of the castle across the pond.
While the dashing young Miles has been appointed to teach Daisy the ropes of being regal, the prince's roguish younger brother kicks up scandal wherever he goes, and tries his best to take Daisy along for the ride. The crown–and the intriguing Miles–might be trying to make Daisy into a lady . . . but Daisy may just rewrite the royal rulebook to suit herself.
---
I read this back in May, and I absolutely adored it. I had to start it a few times to really get into it, but once I did I couldn't put it down. I was glued to this book for the majority of my bus ride back to Michigan from Pennsylvania. Here's my initial review from Goodreads:
I had a 12 hour bus ride to finally power through this one, and I'm glad I got to it! Thank you to the publisher for sending me an advanced copy! This review is no way affected by this.

This book reminded me a little of Prince in Disguise by Stephanie Kate Strom, and is perfect to get you into the mood for anything royal. I have to say that it took me a bit to get into the book, though. The pacing at the beginning was a bit slow, but that would be my only complaint.
The characters in this book were absolutely delightful. Daisy is full of wisecracks; I couldn't stop myself from laughing out loud a few times. The sister relationship in this novel is different from the ones I have with my sisters, but I feel that it's still very genuine. I love seeing them together, and the small thoughtful things Ellie does for Daisy shines through even though Daisy can't see it. Sebastian, the Prince's little brother, is another fun character. He and his sister create quite a lot of trouble for Daisy, but in the end I liked how their characters changed.
I couldn't get enough of Daisy's narration of the events. I felt like I was right there in Scotland with her. It made me want to travel there so bad! The setting contributed to the overall mood of the book so much. It helped that we had a dashing guide to help us along the way.
Overall I recommend this book to people looking for a quick, light read. It puts you right in the mood for a bit of travel too!
Happy reading,
Sophie 🙂