Hi!! I know I haven't been very active, but I'm breaking my silence to talk about this truly incredible book I read. Minutes ago I finished reading A Very Large Expanse of Sea by Tahereh. This is the author's contemporary being released this October. Let's jump right into it!
Title: A Very Large Expanse of Sea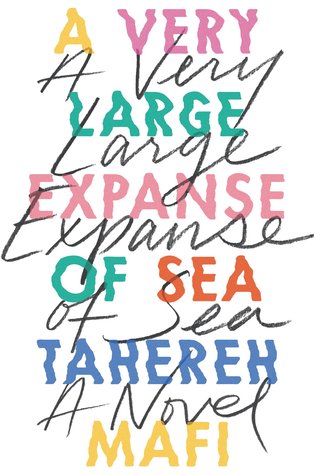 Author: Tahereh Mafi
Publisher: HarperTeen
Expected Release: October 16, 2018
My rating: 5/5 Goodreads stars
It's 2002, a year after 9/11. It's an extremely turbulent time politically, but especially so for someone like Shirin, a sixteen-year-old Muslim girl who's tired of being stereotyped.
Shirin is never surprised by how horrible people can be. She's tired of the rude stares, the degrading comments—even the physical violence—she endures as a result of her race, her religion, and the hijab she wears every day. So she's built up protective walls and refuses to let anyone close enough to hurt her. Instead, she drowns her frustrations in music and spends her afternoons break-dancing with her brother.
But then she meets Ocean James. He's the first person in forever who really seems to want to get to know Shirin. It terrifies her—they seem to come from two irreconcilable worlds—and Shirin has had her guard up for so long that she's not sure she'll ever be able to let it down.
---
Wow, I don't even know how to begin to articulate how much I love this book. It is one of my tops reads this year for sure. It is incredible and raw and nothing I've read before in my life.
Shirin is a character I fell in love with right away. Sure, she could have handled her relationship with Ocean much better, but to be frank, I'm not sure I would have done much different in her position. It's very hard to get out of your own head a lot and to have to do it while facing so much prejudice is harder. I know that Shirin acts immature, but isn't that the point of the story? Isn't she supposed to grow from the events in the story? She's also only 16. She's had to deal with a lot in those years, and it's not getting any easier throwing in the hardships of being a teenager in general. She's someone you can relate to even if you don't directly identify with her background and heritage.
Ocean was a lovely character contrast for Shirin. He was constantly breaking down her barriers which forced her to rethink the way she viewed the world. It was great seeing how their interactions pushed both characters to face things they were afraid to. For Shirin, it was her anger at the world. With Ocean, he had to see the uglier side of the world that he hadn't been privy to from his place of privilege.
The breakdancing aspect of the book gave space for Shirin to be herself and let go of things. I know it's something the author loves deeply and it is conveyed well through Shirin.
This story was very personal, and you can tell by the rawness of the emotion and how real they felt. That's not to say that every story isn't personal to the author, but this one especially shines through as one.
I can't wait for you all to read it this October! Make sure to go pre-order yourself a copy and give them both a lot of love!!!
Happy reading,
Sophie 🙂