Happy new book Tuesday everyone! I have to say that behind Friday, Tuesdays are my favorite days of the week. There is always something new to be had on this day! I absolutely love finding new reads on these days. Today I get to bring to you the amazing new book co-written by Becky Albertalli and Adam Silvera. They are so amazing, and this book is DELIGHTFUL. Thank you so much to the publicist for sending me a copy for review! This in no way affected the way I read and reviewed this book.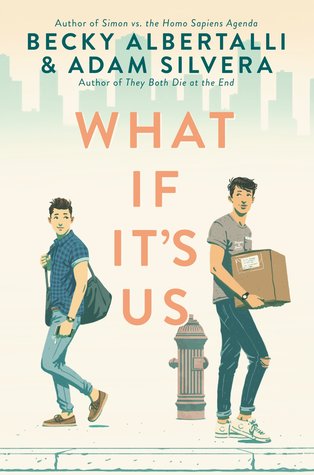 Title: What If It's Us
Authors: Becky Albertalli & Adam Silvera
Publisher: Harper Teen
Release Date: October 9, 2018
My rating: 5/5 Goodreads stars
Arthur is only in New York for the summer, but if Broadway has taught him anything, it's that the universe can deliver a showstopping romance when you least expect it.
Ben thinks the universe needs to mind its business. If the universe had his back, he wouldn't be on his way to the post office carrying a box of his ex-boyfriend's things.
But when Arthur and Ben meet-cute at the post office, what exactly does the universe have in store for them?
Maybe nothing. After all, they get separated.
Maybe everything. After all, they get reunited.
But what if they can't quite nail a first date . . . or a second first date . . . or a third?
What if Arthur tries too hard to make it work . . . and Ben doesn't try hard enough?
What if life really isn't like a Broadway play?
But what if it is?
---
THIS BOOK WAS SO GOOD OH MY GOD I CAN'T BELIEVE I GOT TO READ IT AHEAD OF TIME I COULD HAVE DIED!!!! I really need everyone else to read this so we can scream together.
I love the beginning of the book. It starts off with Arthur enjoying New York and being the biggest nerd ever about it. I love how unabashedly he has no chill. It reminded me of myself a bit. (I'm quite horrible at having chill at most things, and it was refreshing to read about someone who is just like that.) I feel like Arthur wouldn't know what chill is if it hit him in the face. BUT THAT IS OKAY.
Ben was a really good character too. He struggles a lot with feeling accepted in different communities, and I could relate to him a lot on that. He's a great balance to Arthur's character. He's got a lot of surface level chill, but underneath he has about as much as Arthur. I love how complex he is, and it shows through the little gestures and thoughts.
All of the side characters were also awesome. I loved Dylan and Ben's relationship. It reminded me of my best friend. They're a great duo. Even their parents were fun. I loved them all. I loved this whole book with my whole heart.
The dates were definitely something that would have happened to me, but the meet cute was something that would never. IT WAS SO CUTE. You could tell how much they liked each other by how many times they kept forgiving and trying to work on it. Usually people give up after two dates if they go sour. They're so hopeful, and that made me rooting for them the whole time.
This was truly excellent. I had a lot of fun reading about everyone in this book. I wish I got more in the end, but I don't anticipate a sequel with the ending they have. (Not a sad ending!) You need to go read this right now!
Happy reading,
Sophie 🙂