Hi guys! In the spirit of continuing my mini-series on some fabulous 2018 reads, I have an interview with the great Brendan Kiely, the acclaimed co-author of All American Boys. In 2018, Kiely published his latest novel, Tradition. This book tackles tough topics in an accurate yet sensitive manner. I devoured this book once I started it! I hope you love it as much as I did, and be sure to keep an eye out for a review of it on the blog soon.
Here's some things you might want to know about Brendan: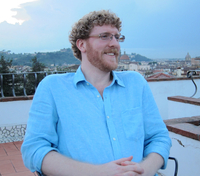 Brendan Kiely received an MFA in creative writing from The City College of New York. His writing has appeared in Fiction, Guernica, The AWP Writer's Chronicle, and other publications. Originally from the Boston area, he now teaches at an independent high school and lives with his wife in Greenwich Village.
Find Brendan here: Website | Twitter | Goodreads | Instagram
Want to know more about Tradition? Here's the synopsis below!
Prestigious. Powerful. Privileged. This is Fullbrook Academy, an elite prep
school where history looms in the leafy branches over its brick walkways. But some traditions upheld in its hallowed halls are profoundly dangerous.
Jules Devereux just wants to keep her head down, avoid distractions, and get into the right college, so she can leave Fullbrook and its old-boy social codes behind. She wants freedom, but ex-boyfriends and ex-best friends are determined to keep her in place.
Jamie Baxter feels like an imposter at Fullbrook, but the hockey scholarship that got him in has given him a chance to escape his past and fulfill the dreams of his parents and coaches, whose mantra rings in his ears: Don't disappoint us.
When Jamie and Jules meet, they recognize in each other a similar instinct for survival, but at a school where girls in the student handbook are rated by their looks, athletes stack hockey pucks in dorm room windows like notches on a bedpost, and school-sponsored dances push first year girls out into the night with senior boys, the stakes for safe sex, real love, and true friendship couldn't be higher.
As Jules and Jamie's lives intertwine, and the pressures to play by the rules and remain silent about the school's secrets intensify, they see Fullbrook for what it really is. That tradition, a word Fullbrook hides behind, can be ugly, even violent. Ultimately, Jules and Jamie are faced with the difficult question: can they stand together against classmates—and an institution—who believe they can do no wrong?
Buy Links: Amazon | Barnes and Noble | Book Depository | IndieBound
Interview
Hi, Brendan!! Thank you for taking time to sit down to answer some of my questions. I loved Tradition, and I can't wait to discuss it!
Thank you so much for reading it, and caring, and thank you for this interview!
To start things off, why don't you give a brief overview of your book.
Tradition is about two outsiders, Jules Devereux, a whip-smart, confident, rabble rouser, and James Baxter, a tough, and sensitive kid on a hockey scholarship, who become friends as they learn just how dangerous the school's old-boy, misogynistic traditions can be. When Jules is assaulted by an ex-boyfriend, she and Bax risk everything they've spent their entire high school careers working for to break the school's culture of silence and complicity.
This is a very heavy, but important topic that you cover, and you write it in such a lovely way. What was it like trying to tackle it?
Thanks for this question. It means a lot to me. I write contemporary realistic fiction, and though this is a novel, and Jules and James are characters, not people, I try to be as careful as I can because their stories are so viscerally similar to real people's stories, and so, when I write, I try to listen to the characters with as much care and consideration as if they were real people sitting in front of me, telling me their stories.
I think writing, like living, is all about practicing empathy.
Did you write this book with a certain intention or message?
All my books begin with a question that is deeply affecting me. In this case it was this: How can our community better listen to and support women, especially those who have been speaking out about misogyny, harassment, and assault for so long, and in particular, how can men become better feminists? I tried to address that question by writing Tradition.
Jules is so awesome. Can you talk a little about where the characters came from? Do you start with characters or a place?
Thank you! I think Jules is awesome too, because she reminds me of some of those awesome students I had the honor to teach, advise, and watch soar out into the world. I worked in a high school for ten years, and the students who peered around the school's walls and stared out into the wider world, are the students who inspired Jules. And Bax too. So many young men (myself included) grow up with so much pressure to try to be tough athletes, and when those some of those boys get together, in order to prove to each other how tough they are, how much of a "man" they are, they say terrible things about women, or worse, sometimes act in disrespectful or even harmful ways towards women. But then there are the guys who witness all this and think to themselves, "this isn't right." I remember those students too—the guys who did want to listen, the guys who turned around to the other guys and said, enough is enough. Bax and his big, soft heart reminds me of those guys who are out there too.
I always start with characters. I write scene after scene after scene getting to know them, and though most of those scenes get thrown out, I do it because it takes time getting to know someone—just like in real life!
How did writing these characters and this story contrast from your other works?
I love this question, because I think Jules in particular is so different and unique. As a man writing a book in which half of it is from a woman's perspective, it was essential for me to get feedback from women along the way. In order to try to be as accountable as possible, I asked nine women to read over my shoulder as I wrote Tradition—while I've always asked for feedback from readers while working on a project, I've never had so much feedback at once, and I'm forever grateful for the time, attention, and care!
There's a distinction between a harmful tradition and a fun, silly one. Is there a fun one that you enjoy?
Yes! Absolutely. Tradition itself isn't a bad thing, it's only when the tradition is used an excuse to protect some people while others are being harmed that it's a problem. Every year in Barcelona, on April 23, couples exchange books and roses with each other, the tradition is called the festival of St. Jordi. It's been going on forever, and no one really knows how it started, but it's awesome and still continues today—it's like a super bookish Valentine's Day! And closer to home, right where I grew up, it was a tradition for many years that many of the neighborhood families would gather at my friend Adam's house for Christmas Eve, and his father would make the same calzone every year, and we'd all sit around the piano and sing while another friend's father played the songs. But what makes these traditions fun is that they are inclusive—everyone feels a part of it. The traditions that bother me are those designer to make some people feel excluded, or insignificant, or disrespected in some way. Those are the kinds of traditions Jules and Bax want to tear down and expose for their ugliness.
Is there anything you're currently working on that you can share a little about?
Ahhhh!!! This is always the hardest question because when I'm in the middle of something I never know what it really is until I get to the end of the first draft. I will say this though, I love telling stories that are full of heart and emotion and people learning how to better listen to each other, and my next project follows in the same… well… tradition. Ha! Thanks so much for asking!
Thank you so much to Brendan for taking the time to speak with me on the blog! I encourage you all to go out and get yourselves a copy of this excellent novel.
Happy reading,
Sophie 🙂