Hey guys! I hope you've had a good week so far! Tomorrow is Friday, so hang in there 🙂
About the Book
Carry Me Home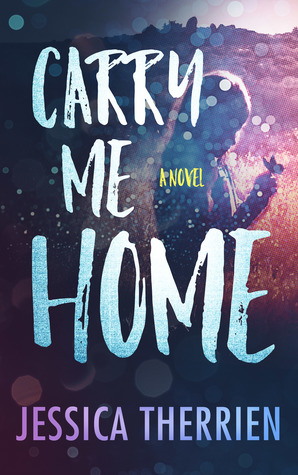 by Jessica Therrien
Published by: Acorn Publishing
Publication date: September 26th 2017
Genres: Contemporary, Thriller, Young Adult
Synopsis:
"A riveting page-turner… Jessica Therrien broke my heart into a million pieces — and then put it back together again. This book will haunt and uplift readers long after they turn the last page."
-KAT ROSS, best-selling author of The Midnight Sea
CARRY ME HOME is a fictional novel inspired by the true story of a teenage girl's involvement in several Mexican gangs in San Jose and Los Angeles. The members of her crew call her, Guera, Spanish for "white girl" and it doesn't take long for her to get lost in their world of guns and drugs.
* * *
Lucy and Ruth are country girls from a broken home. When they move to the city with their mother, leaving behind their family ranch and dead-beat father, Lucy unravels.
They run to their grandparents' place, a trailer park mobile home in the barrio of San Jose. Lucy's barrio friends have changed since her last visit. They've joined a gang called VC. They teach her to fight, to shank, to beat a person unconscious and play with guns. When things get too heavy, and lives are at stake, the three girls head for LA seeking a better life.
But trouble always follows Lucy. She befriends the wrong people, members of another gang, and every bad choice she makes drags the family into her dangerous world.
Told from three points of view, the story follows Lucy down the rabbit hole, along with her mother and sister as they sacrifice dreams and happiness, friendships and futures. Love is waiting for all of them in LA, but pursuing a life without Lucy could mean losing her forever.
Ultimately it's their bond with each other that holds them together, in a true test of love, loss and survival.
Goodreads: https://www.goodreads.com/book/show/35290299-carry-me-home?ac=1&from_search=true
Purchase: 
Amazon: https://www.amazon.com/Carry-Me-Home-Jessica-Therrien/dp/0998309885/
B&N: https://www.barnesandnoble.com/w/carry-me-home-jessica-therrien/1126630272?ean=9780998309880
About the Author
Jessica Therrien is the author of the young adult series Children of the Gods. Book one in
the series, Oppression, became a Barnes & Noble best-seller shortly after its release. Her trilogy has been translated and sold through major publishers around the world, such as Editions AdA (Canada), EditionsMilan (France), and SharpPoint Press (China).
Aside from her Children of the Gods series, Jessica is the author of a kid's picture book called, The Loneliest Whale. Her award-winning stories can also be found in a published anthology of flash fiction.
Jessica currently lives in Irvine with her husband and two young sons. She is working on an a YA suspense thriller series and a middle grade fantasy series.
Author links:
http://jessica-therrien.blogspot.ca/
https://twitter.com/JessicaTherrien
https://www.facebook.com/jessicatherrienauthor/
https://www.goodreads.com/author/show/5406182.Jessica_Therrien
Review
I'm not sure how to feel about this book still, but I will give you some thoughts I have on it thus far.
Ruth was probably my favorite of all the characters. She starts off shy and sheds it throughout the book to become someone new. I wasn't a big fan of Lucy. She made terrible decisions, and I couldn't relate to her well.
The plot is a slow burn. It has some action, but not a lot of it.
Overall, this was a decent read.
Follow the Tour
October 23rd
–Let Me Be Fictional
–Folded Corners and Smudged Screens
October 24th
–Texan Girl Reads
October 25th
–Reading With Wrin
October 26th
–Jemms Reads
October 27th
–Cindy's Love of Books
–Blushing babes are up all night
October 28th
–a small girl,her man and her books
–Inside The Mind of an Avid Reader
–Book Reviews by a Little Bookworm
Giveaway
Tour-wide giveaway (INTL)
Signed copy of Oppression (Children of the Gods #1)
Signed copy of Carry Me Home
$10 Amazon Gift Card
Here's the link!
Happy reading,
Sophie 🙂