Hello, book dragons! I'm back this Friday with another wonderful author! This time it's Jessica Spotswood, author of The Cahill Witch Chronicles, editor of A Tyranny of Petticoats, and most recently pushlished Wild Swans.
Here's a little bit about Jessica:
Jessica Spotswood is the author of the contemporary novel WILD SWANS and the historical fantasy trilogy The Cahill Witch Chronicles. She's also the editor of the feminist historical anthology A TYRANNY OF PETTICOATS. Jess grew up in a tiny, one-stoplight town in Pennsylvania, where she could be found swimming, playing clarinet, memorizing lines for the school play, or—most often—with her nose in a book. Now she lives in Washington, DC, where she can be found working as a children's library associate for the DC Public Library, seeing theatre with her playwright husband, or—most often—with her nose in a book. Some things never change.
Social media links: Website / Twitter / Facebook / Instagram / Goodreads
Wondering what Wild Swans is all about?
The summer before Ivy's senior year is going to be golden; all bonfires, barbeques, and
spending time with her best friends. For once, she will just get to be. No summer classes, none of Granddad's intense expectations to live up to the family name. For generations, the Milbourn women have lead extraordinary lives—and died young and tragically. Granddad calls it a legacy, but Ivy considers it a curse. Why else would her mother have run off and abandoned her as a child?
But when her mother unexpectedly returns home with two young daughters in tow, all of the stories Ivy wove to protect her heart start to unravel. The very people she once trusted now speak in lies. And all of Ivy's ambition and determination cannot defend her against the secrets of the Milbourn past….
A Tyranny of Petticoats is an awesome anthology! This is what this one is about:
From an impressive sisterhood of YA writers comes an edge-of-your-seat anthology of historical fiction and fantasy featuring a diverse array of daring heroines.
Criss-cross America — on dogsleds and ships, stagecoaches and trains — from pirate ships off the coast of the Carolinas to the peace, love, and protests of 1960s Chicago. Join fifteen of today's most talented writers of young adult literature on a thrill ride through history with American girls charting their own course. They are monsters and mediums, bodyguards and barkeeps, screenwriters and schoolteachers, heiresses and hobos. They're making their own way in often-hostile lands, using every weapon in their arsenals, facing down murderers and marriage proposals. And they all have a story to tell.
With stories by: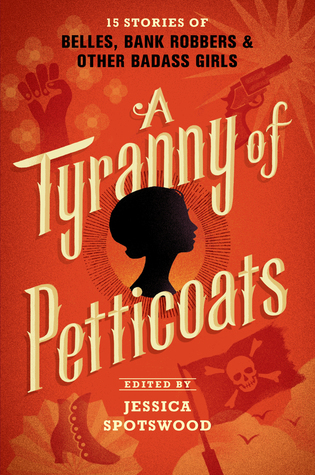 J. Anderson Coats
Andrea Cremer
Y. S. Lee
Katherine Longshore
Marie Lu
Kekla Magoon
Marissa Meyer
Saundra Mitchell
Beth Revis
Caroline Tung Richmond
Lindsay Smith
Jessica Spotswood
Robin Talley
Leslye Walton
Elizabeth Wein
I have only read these two, but I really enjoyed them! There will be a sequel to Tyranny and I can't wait for it to come out! Without further ado, here is the interview:
Sophie: Hi, Jess! Tell us 5 unique facts about yourself.
Jessica Spotswood:
1.  I have a 20 year old black cat named Monkey.
2.  I am scared of vines. They really creep me out. And snakes. And heights.
3.  Like my heroines Cate and Ivy, I'm the oldest of three sisters.
4.  I am addicted to black tea, The 100, Modcloth, and buying books.
5.  I have TWO entire to-be-read bookcases. It's kind of a problem.
S:What inspired your latest work Wild Swans?
JS: I had just read April Tucholke's
Between the Devil and the Deep Blue Sea,
which I loved, and it made me think a lot about setting. I loved the creepy-gorgeous atmosphere of the book, which takes place in a crumbling mansion by the sea. I set out to write something where the setting would play an important role, almost like another character.
Wild Swans
 is set in a small town on the Eastern Shore of the Chesapeake Bay. Cecil is a small college town, the kind of town where everyone knows everyone else's business and everyone has expectations of you based on your last name. For Ivy, given how remarkable but troubled the other Milbourn women have been, there's a constant push-pull to live up to that extraordinary talent but also not be anything like the mother who abandoned her.
S: Do you see yourself in Ivy? In her mother?
JS: I see a lot of myself in Ivy! She's such a perfectionist and desperate to please, and that's something I struggle with, too. I think a lot of girls do, because we get a lot of pressure from society to be nice and put other people first. We're taught that putting ourselves and our own needs first is selfish, but that's so untrue! Over the course of the book, Ivy starts to stand up for herself more, starting with telling her best guy friend (who has a crush on her) that she can kiss whoever she wants and he doesn't get a say in that, to eventually standing up to her mom and her granddad.
S: What was your favorite part about writing these characters?
JS: Because the women in her family have all been incredible artists, and because her granddad pushes her to discover her own extraordinary talent, Ivy feels like she's not enough. One of my favorite quotes from the book is: 
If you're not any good, what's the point? Milbourn girls don't do mediocre
. That's messed-up thinking, but it's also so relatable, I think. I've 
written very openly
 about feeling like my trilogy didn't live up to the publisher's high sales expectations and how that made me feel like a failure for a while. I absolutely used that experience to write Ivy. It was sort of cathartic, I think, because it reminded me that how important it is to focus on what
you
want, not what other people want for you.
S: Alright, let's talk a little about your new anthology. How did you like collaborating with 14 other women for A Tyranny of Petticoats?
JS: I loved it! They were all so talented and generous and a joy to work with. It really reminded me how awesome it is to celebrate other women's achievements, too. I follow them all on social media – many of us are friends IRL too – and I love supporting them and their work!
S: How did you come up with the concept for the book?
JS: As soon as I decided I wanted to try editing an anthology, I knew I wanted it to be stories about girls throughout American history. Growing up, my dad was a huge history buff, but all of his books were about statesmen and presidents and generals. There weren't any about women. The everyday lives and awesome contributions of women – especially queer women and women of color – have too often been erased from history. This is my attempt to fix that a little bit.
S:Other than your own character Madeleine, who do you relate to most?
JS: I related a lot to Caroline Richmond's character, Lizzie, who struggles to stand up for herself in the face of her formidable grandmother! The story takes place during the Civil War, and her grandmother wants Lizzie to catch a suitable husband to help repair the family fortunes, but Lizzie's got other things on her mind – like catching a Confederate spy! I love characters with a sort of quiet strength.
S: The follow up book The Radical Element is expected sometime next year. Can you give us a hint as to what new stories we can expect?
JS: I can't tell too much because I haven't read the stories yet; the authors are writing them now! I can share the awesome list of authors: Alexandra Bracken, Meg Medina, Stacey Lee, Erin Bowman, Mackenzi Lee, Sarvenaz Tash, Anna-Marie McLemore, Marieke Nijkamp, Dhonielle Clayton, Dahlia Adler, Sara Farizan, and me. I can tell you that my story is about a girl who's an aerialist in the circus during World War I. And at YALLWEST last month, the other authors on our history panel were trying to convince me to take a trapeze class, but I am terrified of heights! Also, I've been researching terrible circus accidents, which probably hasn't helped…
S: Okay enough about writing, what do you like to do when you aren't?
JS: Hmmmm…between writing a new book, editing another anthology, and working part-time as a children's librarian, I don't have a lot of free time lately. I've gotten really into grown-up coloring books this year, though. It's very relaxing! I post pictures sometimes on my Instagram. I see theatre with my husband, who's a playwright. I spend too much time on Twitter and Facebook. I want to get back into cooking more and doing yoga this summer!
S: What's it like to be a librarian?
JS: I'm a children's librarian, so it's a lot noisier than you'd expect! Yesterday I prevented toddler book theft. Two toddlers went running outside to the playground clutching board books, and I had to chase after them and explain that they couldn't just take the books, they had to ask their moms to check them out first!
Seriously, it's a lot of fun. The kids say hilarious stuff. We do a lot of arts and crafts, and I love that.
S: Any finishing thoughts you'd like to leave with us today?
Thanks so much for having me and for the great, thoughtful questions!
🙂 Jess
It was no problem! Thank you so much for taking your time to talk with me today, Jess!
******************************
As you may have already noticed, Jessica is a lovely woman. She is so nice, and I'm glad to have had the opportunity to talk with her. Please take a minute to go check out her books, they're worth your time!
Thanks for hanging out with us today! I have more exciting things in store for you that I have yet to share – I can't wait! Have a lovely Friday, guys!
Happy reading,
Sophie 🙂